I promised a lot of tutorials when I posted Big Brother's room reveal (check it out here)... and we're finally going to tackle one! So let's start with one of our favorite upgrades - our Ikea bed tent hack.

Big Brother loved having a tent, but the one from Ikea was made with a crazy blue fabric that just didn't match anything. So I grabbed some new fabric and a tape measure and got to work.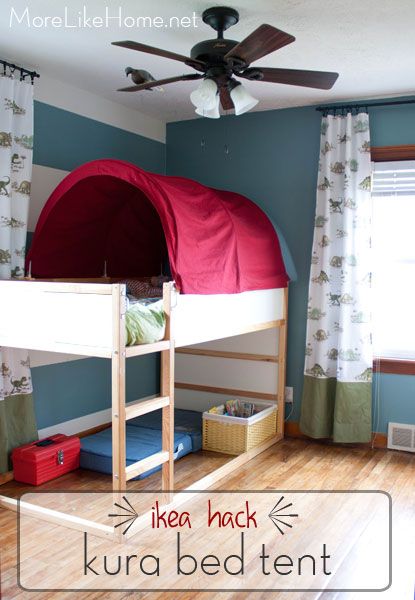 I took apart our original bed tent and copied the pieces to make our new-and-improved version. And yes, you do need to have the Ikea bed tent because we'll be using the poles and hardware from the tent and just switching out the fabric. Kind of a bummer if you don't have one already (sorry!) but if you do you're well on your way to a totally sweet and one-of-a-kind upgrade!
Here's what you need to make your new tent:
5 yards quilting cotton fabric (we used red for a nice pop in the room, but a patterned fabric would be really fun too!)
thread
1 yard 1" elastic
Kura bed tent poles & hardware
Start by pre-washing and drying your fabric, then cut out the following pieces:
2 body pieces @ 81 x 31" 
3 pole sleeves @ 67 x 2"
6 elastic reinforcing tabs @ 8 x 1.75"
1 top sleeve @ 53 x 2"
2 pole pockets @ 5 x 3.5"
6 pole pocket reinforcement @ 4 x 2.5"
4 curved ends