Our mantle decor got a major upgrade this Christmas with a beautiful new set of stockings!
(we also updated the actual mantle earlier this year when we wrapped it with wood and added shiplap)
But this big upgrade didn't have a big price tag. Believe it or not, these beautiful, classic stockings started with a set of plain red Amazon stockings that were
only $5 each.
They just needed a little MLH farmhouse flair!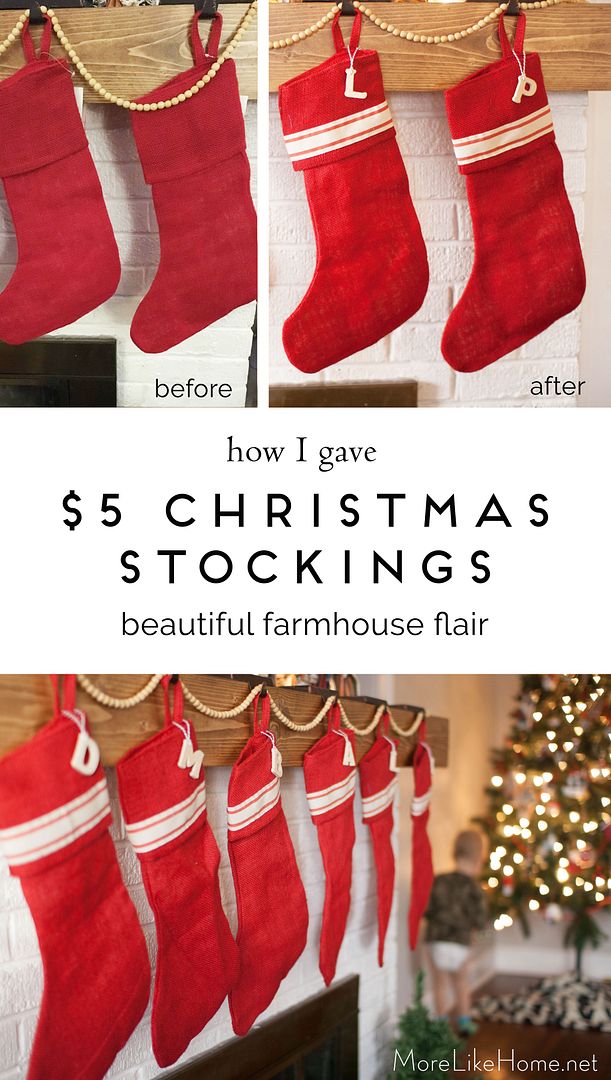 I like to think I know a thing or two about stockings. I've spent a good amount of time looking at them over the last ten years, because every. single. year. I search again for our perfect fit.
I've found plenty of beautiful stockings over the years, but all the ones I loved failed to fit one important requirement. Budget. As much as I dreamed of perfect stockings, I just didn't feel like I found the right ones for a price I was willing (or able) to pay. I began my stocking saga after baby #2 joined the family. Our budget was strapped pretty tight, so I made
handmade stockings
with leftover flannel (you can
see how I made them here
). They were totally free, but I didn't love the fabric (
I wont' totally knock that idea, though. I seriously considered making a matching plaid set this year before I found these red ones, and I think that would feel wonderfully cozy!
).
A couple years later when we needed to add a fifth stocking, I decided to scrap those guys and start fresh. But wouldn't you know it, I was pregnant and tired and just needed
something
before the baby got here... so I just got the best Hobby Lobby had to offer for $5 each (you can see them in
this post
). It did feel like an improvement, but it also felt like a wasted opportunity because deep down I knew I didn't love those moosey stockings. They weren't my style, and for the next couple Christmases I cringed with regret every time I pulled them out. But I couldn't justify replacing them - they were brand new!
Then, earlier this year, we added baby #4. Even last Christmas before he was born I knew - we would need a sixth stocking. I knew this was my chance to get a new set, and this time I was ready. This time I knew what I wanted, and this time I was ready to hunt. it. down.