We finished the big boy room makeover way back in the spring, but today we're finally going to take a closer look at those dinosaur curtains! We used a sheet set to make light, airy curtains with an accent strip across the bottom. This is the story of how I squeezed two full sets of curtains out of one twin-size sheet set.


I had a terrible time finding the perfect thing. Big Brother loves dinos, but so many dino fabrics are babyish or crazy colorful. I really wanted something light, clean, and not cartoony. A thorough fabric search both in-store and online turned up nothing like what I was looking for (except one single fabric that was $30/yard. *faint*). So I broadened my search - duvets, sheets, shower curtains. Nothing was safe. And finally.
Finally
. I found something. It was a sheet set at
Pottery Barn Kids
that would just fit the bill. Except... where the actual bill was involved. Ideally you would want flat sheets for making curtains, and I like to plan on one curtain per window which would mean two flat sheets for this room. But PB only sells their sheets in sets. And a twin sheet set was $59 (but they have lots of great boy prints and most are
on sale
at the moment for $47). There was no way we had the budget to double that, so I just ordered one set and vowed to make it work!
Another note - shipping was OUTRAGEOUS and we could not find a way to get it cheaper. Almost $20 between shipping & taxes. Definitely recommend buying in-store at PB Kids if you can.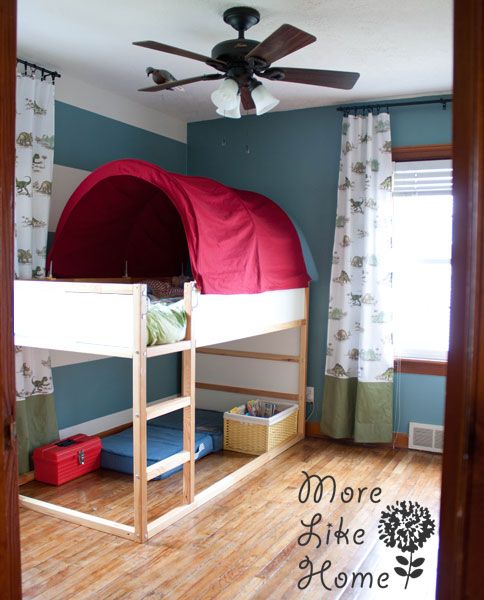 When my sheets arrived I started by washing & drying them. Then I set to work on the fitted sheet first (since it was smaller and I could cut the flat to match whatever the final size would be).  I started by cutting right along the corner seams so the corners opened up flat like this: